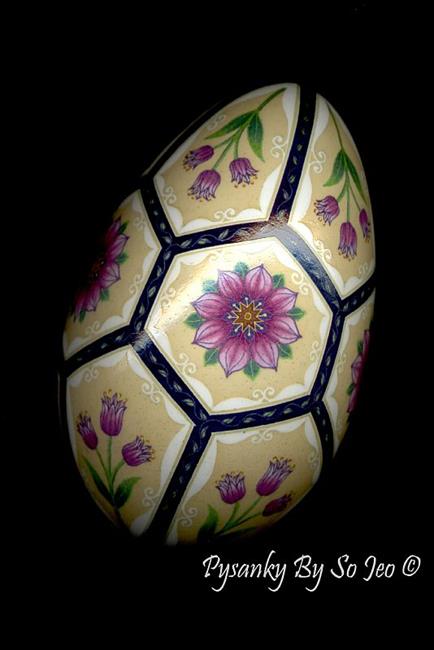 This beautiful batik egg was lovingly created in the traditional method of Pysanky, using a batik wax and dye process on a real blown turkey egg. Sealed with a coat of archival, industrial grade UV resistant, crystal clear finish, it's finished size measures approximately 3 1/4" tall.
This very first egg made for 2013 is reminiscent of Victorian design, with an white scrolling, lace-like border that encases panels of magenta tulips with Spring green stems against a vanilla cream / linen background. The interwoven dark turquoise/ navy borders feature twisting vines with tiny leaves. The tulips are hand-shaded with a watercolor effect with deep centers, fading to the lightest pink tips. A very pretty egg, light and airy just in time for Spring.
The process begins by meticulously drawing out the desgin in pencil before it goes through a process of waxing and dyeing. Etching technique is used to create the raised borders and create a subtle three dimensional effect.
As with all my eggs, yours will come with a FREE lacquered, dark wooden stand and digital COA (Certificate of Authenticity) that allows you to register your piece in an online art database and also a signed copy. To view my full gallery of designs, please visit my website
www.sojeo.com
.
For questions, comments or to be added to my mailing list, please
email me
.