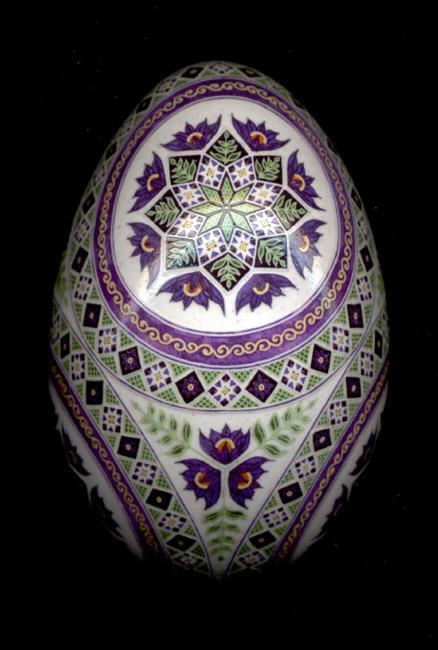 This beautiful pysanka was made in the traditional batik wax and dye process on a real blown double yolk turkey egg, which is then sealed with an industrial grade UV resistant, protective, crystal clear finish. It measures approximately 3 1/4 inches tall.
The center design of the circles features an fresh apple green rose, shining stars and the leaves and purple flowers of a Jacob's Ladder. The encircling rings carry on the same stars and little purple flowers and nets. Please note that there are flaws on this egg, the purple bands are mottled and one band is a slightly different shade of purple and the starting price reflects this.
The design is meticulously drawn out in pencil before it goes through a process of waxing and dyeing. Etching technique is used to create the raised borders and create a three dimensional effect.
Comes in a gift box and includes a FREE dark laquered wooden stand. As a little piece of artwork in it's ownright, your egg is signed by me, the artist, and comes with a digital COA (EBSQ Certificate of Ownership) to register your piece once you receive it.