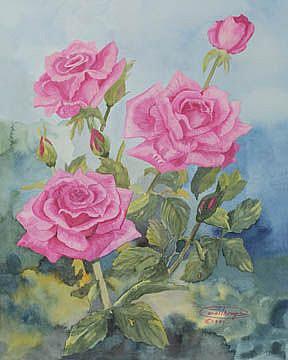 "Do you love roses? Do you love the dew kissed mornings when rose fragrance hangs heavy in the air? Do you love the soft blush of pink tinged with blue shadows? Then this is the rose for you."
Artist comment: "This triangle composition is a watercolor on 140# hot-pressed watercolor paper. I sketched the blooms, then painted an impressionistic background to allow total focus on the softly tinged flowers. The petals were painted in washes to build up layers of color and still maintain the gossamer effect of the delicate blossoms."
This image is available as a limited edition giclee print on paper and canvas from an original painting by Carol Thompson. Edition length is 3600 authorized, signed, limited edition prints (3500 numbered and 100 artist proofs). Please visit my website for prices and availability of the original painting.
By commenting, you agree to our Community Guidelines.