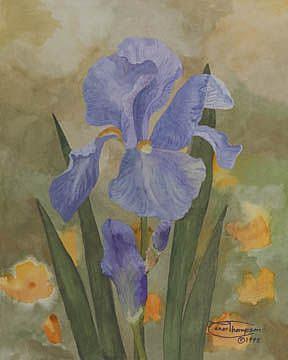 "Among all the Spring flowers, perhaps this lovely, delicate orchid colored isis could be overlooked. But when a gentle breeze stirs the standards and a tenderly sweet fragrance drifts to you, you will definitely notice this 'Mid-May Iris'."
Artist comment: "In my yard in Olympia, I had a nice iris garden. The colors ranged from white to black with these soft blue-lavender mid-May iris blooms in the center of the spectrum. I used watercolor on Arches 140 # hot pressed paper. After sketching the blooms, I washed in a warm background color, then carefully layered the leaves, finishing with the detail of the flowers. While the paint was still wet, I incised the detail with the sharp handle of my brush."
This image is available as a limited edition giclee print on paper and canvas from an original painting by Carol Thompson. Edition length is 3600 authorized, signed, limited edition prints (3500 numbered and 100 artist proofs). Please visit my website for prices and availability of the original painting.
By commenting, you agree to our Community Guidelines.