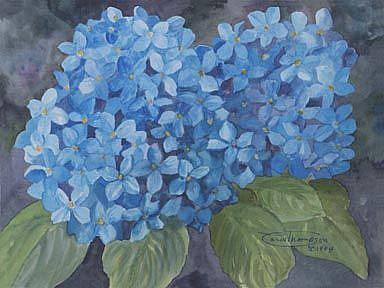 "I have had a 'blue hydrangea' at my front door for over thirty years. It never fails to bloom profusely and thrill me with it's huge clusters of blue flowers."
Artist comment: "I had a large blue hydrangea in my Olympia garden. Every summer I was greeted by clusters of purest azure. They made wonderful, long-lasting cut flowers and can be dried for 'happy' winter bouquets. Painting them was a delight, and a challenge. So many petals, so many shadows. The artwork was accomplished on 140# hot-presssed watercolor paper; my favorite substrate for water based paint."
This image is available as a limited edition giclee print on paper and canvas from an original painting by Carol Thompson. Edition length is 3600 authorized, signed, limited edition prints (3500 numbered and 100 artist proofs). Please visit my website for prices and availability of the original painting.
By commenting, you agree to our Community Guidelines.