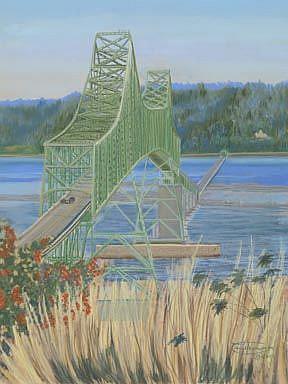 Between Northwestern Oregon and Southwestern Washington, the four mile long Astoria Megler bridge spans the mighty Columbia River.
Artist comment: Known affectionately locally as 'the bridge', this impressive structure was a fun challenge to paint using pastel on smooth Mi-Teintes paper. I started with a sketch, focusing my attention on the compositional elements. Then, starting with the sky, I painted the background carefully, leaving the inticate architecture of the structure for later. Then I meticulously rendered the bridge. I finished the painting with a loose, carefree treatment of the foliage in the foreground.
This image is available as a limited edition giclee print on paper and canvas from an original painting by Carol Thompson. Edition length is 3600 authorized, signed, limited edition prints (3500 numbered and 100 artist proofs). Please visit my website for prices and availability of the original painting.
By commenting, you agree to our Community Guidelines.