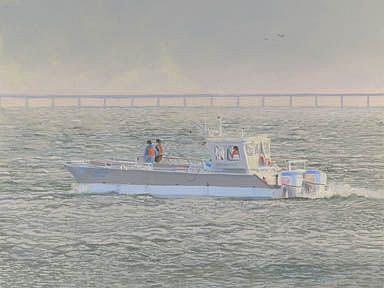 The NOAA Research Vessel Sailfin plys the water of the Columbia River near the Astoria/Megler Bridge in Oregon.
Artist comment: One of my favorite recreational activities is to go to the waterfront of the Columbia River in Hammond, Oregon, and watch the boats. Outside of the many tugs, fishing boats, and freighters, there pops-up an occasional vessel that piques my interest. This boat was different, so I sketched it, researched it, and painted it. With pastel on Canson Mi-Teintes paper, I began with a soft gray over all. At the horizon, I smoothed in a touch of coral. I very meticulously painted the bridge, blending it into the background. I had a lot of fun doing all those ripples, then seriously rendered the boat and crew. A few seagulls in the sky and voila! Done!
This image is available as a limited edition giclee print on paper and canvas from an original painting by Carol Thompson. Edition length is 3600 authorized, signed, limited edition prints (3500 numbered and 100 artist proofs). Please visit my website for prices and availability of the original painting.
By commenting, you agree to our Community Guidelines.