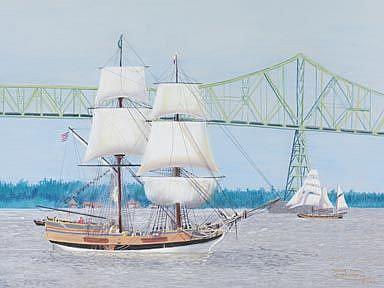 Challenge At The Bridge
"The Lady Washington and the Hawaiian Chieftain meet in the bay near Astoria, Oregon to face a challenge at the bridge".
Artist comment: "The year 2011 is the bi-centennial of the founding of Astoria, Oregon. Part of the celebration was a sailing of two tall ships; the Lady Washington, and her sister ship, Hawaiian Chieftain. As they drew alongside each other, volleys of mock shell fire echoed across the water, accompanied by great clouds of smoke. The battle was declared a draw as delighted onlookers cheered! In this pastel on Canson Mi-Teintes paper, I chose to depict the scene as these two beautiful tall ships maneuvered with the Astoria-Megler bridge as a backdrop. I love the lines and sleek hull of the boats, contrasted by the straight angles of the masts. The scene is indicative of a pleasant summer day on the bay".
This image is available as a limited edition giclee print on paper and canvas from an original painting by Carol Thompson. Edition length is 3600 authorized, signed, limited edition prints (3500 numbered and 100 artist proofs). Please visit my website for prices and availability of the original painting.
By commenting, you agree to our Community Guidelines.