This is a one of a kind wearable art piece handpainted by Dana Marie.
Each piece is an original miniature painting.
www.etsy.com/shop/danamarieart


Original Acrylic Painting Size 1.5"
Pendant: Painting on 1.5" Wood piece pendant.
Necklace: 18", 20", 24", 26", 28" or 30" Stainless Steel Necklace
Detail Images
StormySkyPoppyFields2_1andhalfRoundWearableArt_Dec7_2018.jpg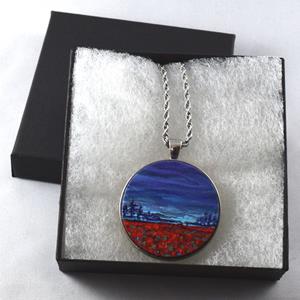 StormySkyPoppyFields1_1andhalfRoundWearableArt_Dec7_2018.jpg
By commenting, you agree to our Community Guidelines.