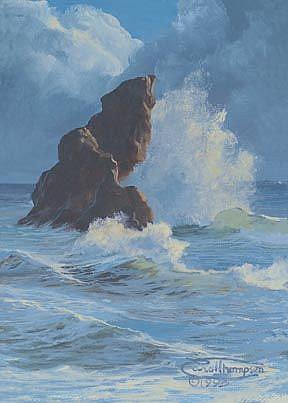 "A large wave rolls in and hits an offshore rock with a resounding 'splash'."
Artist comment: "All the details of a full sized oil seascape are in this small painting. The simple composition focuses on an unusually shaped rock as the waves roll in. I chose a cool background to offset the warm rock. The waves in the front are covered with foam nearly completely blanketing the water."
This image is available as a limited edition giclee print on paper and canvas from an original painting by Carol Thompson. Edition length is 3600 authorized, signed, limited edition prints (3500 numbered and 100 artist proofs). Please visit my website for prices and availability of the original painting.
By commenting, you agree to our Community Guidelines.