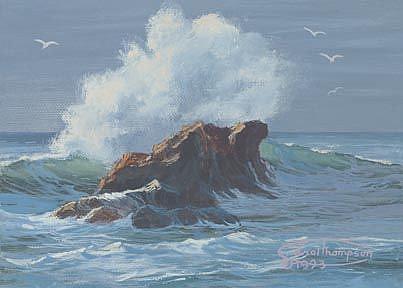 "With a large 'crash', an incoming wave hits an offshore rock."
Artist comment: "With oil paint on canvas, I recreated a scene I had observed on a recent outing at the beach near Bandon, Oregon. After watching wave after wave, suddenly, a magnificent wave crashed resoundingly upon a large rock. I painted this scene later in my studio from my memory of the event. I used oil on canvas, starting with a workable sketch, then rendering the sky, sea, and ripples. I finished by painting the rock and the run-over and trickles. The seagulls were the final accent to add 'life' to the scene."
This image is available as a limited edition giclee print on paper and canvas from an original painting by Carol Thompson. Edition length is 3600 authorized, signed, limited edition prints (3500 numbered and 100 artist proofs). Please visit my website for prices and availability of the original painting.
By commenting, you agree to our Community Guidelines.