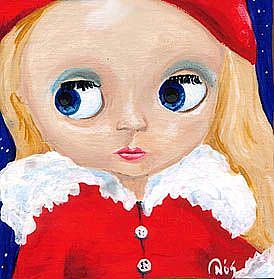 Snow Blythe, a portrait of the Blythe doll.
The beauty of Blythe is she is so weirdly creepy cool!
Inspired by the Blythe dolls of the late 70ís this is a mini painting.
A perfect way to have original art in a small space! Each painting is first sanded then a layer of artistís gesso is applied, allowed to dry then sanded again. The piece has 3 layers of gesso hand sanded between each application. When the painting is completed it is them finished with 3 coats of sealer to protect it from environmental damage.
Detail Images
painting is ready to hang
sides are painted in a faux frame
More Blythe paintings to view
By commenting, you agree to our Community Guidelines.