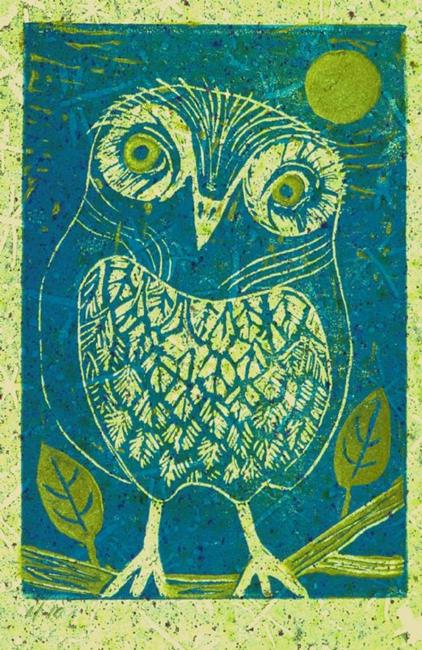 Athena, the Greek goddess of wisdom is often associated with an owl, however the owl is more than her symbol or mascot. Athena could appear in the form of an owl. In my linocut you see Athena in her Owl aspect.
This linocut was originally made for an EBSQ printmaking challenge. It's a 2 color reduction linocut, which was challenging enough for me! The first cut was the owl on a branch printed with blue. The lino was then reduced to print the moon, the branch with leaves, and the owl's eyes with gold as befits a goddess. In the actual print, the gold is a lovely rich metalic color, which unfortunately looks more greenish in the photo.
To add more dimensionality to my 2 color linocut, I chose to print it on a pale green paper with a subtle insect pattern.
This is a limited edition of 10 prints. Because these are hand pulled prints, each impression is unique and has slight variations from the others.
~~~~~~~~~~~~~~~~~~~~~~~~~~~~~~~~~~~~
By commenting, you agree to our Community Guidelines.