Invited to a party with a Korean theme I came up with this oriental centerpiece. A trip to the Schofield dam picking branches and dried berries, carefully cutting out paper blossoms painted pearl fuschia on both sides. I found a vase that already had Styrofoam in it so a little arranging and voila! Also, the final touch are the real (dead) glued/varnished Asian lady bugs carefully placed on the branches.
Detail Images
Korean centerpiece detail 3 hand made blossoms.jpg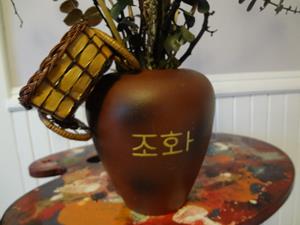 Korean centerpiece detail.jpg
Korean centerpiece with Asian Lady Bug on Flower.jpg
By commenting, you agree to our Community Guidelines.