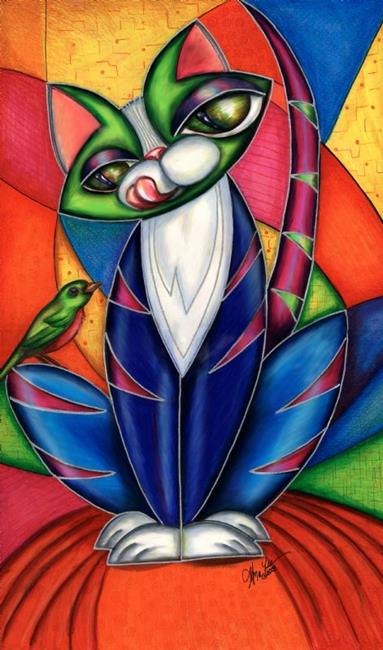 Within every domestic cat lies wildness, cloaked in an attitude of mischievousness and suspicion. They watch, plan, pounce and conquer. The dust bunny, may be a rabbit, and the fly on the wall a bird, it all needs to be investigated and conquered. This warrior's armor is the cloak of domesticity, and all scattered debris would be wise to keep that in mind. I chose primary colors to emphasize the primal untamed side of cats, and cubism best illustrates the fractured nature of the domestic feline. About this piece: Size: 10x17 Sub strait: 140 lb Bristol Vellum Media: Color pencil, and marker Style: Modern Cubism, abstract, representational Note: The colored pencil is applied layer upon layer to build up deep, vibrant color saturation an effect similar to the renaissance glazing techniques used by the old masters.
Detail Image
The Conquered (detail)
By commenting, you agree to our Community Guidelines.