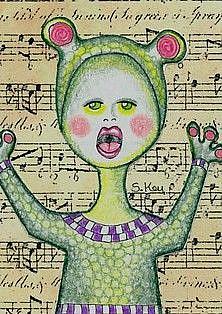 A collage of my original artwork done in mixed media on paper.
One of my most popular Toad Babies, this one loves singing and hitting those high notes.
Toad baby is a colored pencil and ink cut out collaged onto a music background on bristol (sturdy like card stock but made for artwork). ACEO art cards are very collectible baseball sized artworks.
Toad Baby-Hitting High C is for sale on Ebay
(Click HERE)
You can also see Lizzy, Victorian Music Teacher (also shown here) for sale in this month's Nibblefest starting at just .99 cents on Ebay
(Click HERE).
These two make a great pair.
By commenting, you agree to our Community Guidelines.