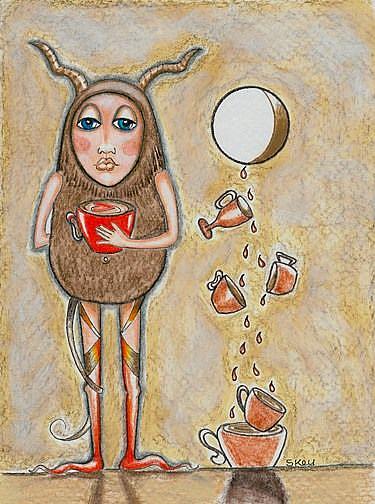 My humorous and loose interpretation of the Six of Cups Tarot card. I call him "The Coffee Monger." Said to stand for innocence and nostalgia, among other things.
Yes, he's got an unlimited supply of coffee from a coffee moon but he only has six cups, so it's a shame a lot of it is wasted. Even so...he still has his very favorite red coffee cup which always has a little heart swirl in the middle.
I've had a hankering to experiment with some different styles and mediums with my art lately, and the idea for this little guy just tickled my fancy.
Pop Surrealism-Colored pencils and acrylic painting on watercolor paper. Shown with inexpensive red, store bought mat with a 5" x 7" opening. (Example only-mat not included).
Artwork can be framed in with a 5" x 7" mat opening but is done on 6" x 8" watercolor paper so you have a little room for adjustment within whichever mat and frame you choose to put it in. Signed and dated on the back.
Copyright Texas Artist Artisan Sherry Key
Check out all the artists work for this month's
Nibblefest (click here)
that starts at just .99 cents on Ebay and runs the 20th through the 27th of each month. This month's theme is "Coffee."
By commenting, you agree to our Community Guidelines.