This dancer is a whimsical look at little girls and ballet.
This is a smaller piece done on 100 year old hardwood floor board slavaged from a factory in down town Toronto. It is wide enough to stand alone or a hook can be added to the back of the piece.
Please view the Nibblefest Art Contest. The theme this month is ALICE IN WONDERLAND! There are other entries for you to choose from with each entry title containing the word NFAC. Please be sure to search for NFAC to see more great entries. We appreciate it!
Detail Images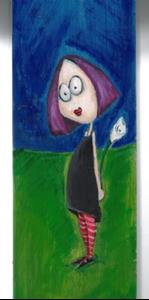 Gothic big eyed girl on auction this week too!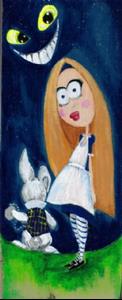 View more alice in wondeland paintings !
Check out Nibblefest and the alice in wonderland theme
By commenting, you agree to our Community Guidelines.