Alice in Wonder bread!
The mad hatter is about to make a feast or poor wee Alice! This is just another piece of whimsy inspired by a friends comment once and the monthly nibblefest competition. Nibbling on Alice somehow seemed appropriate.
This is my entry in the Nibblefest Art Contest. There are other entries for you to choose from with each entry title containing the word NFAC. Please be sure to search for NFAC to see more great entries. We appreciate it!
Detail Images
MORE ALICE IN WONDERLAND PAINTINGS IN MY OTHER AUCTIONS!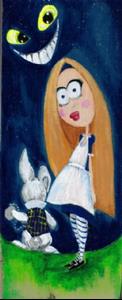 Please view my other auctions for this and othe alice in wonderland pieces
By commenting, you agree to our Community Guidelines.