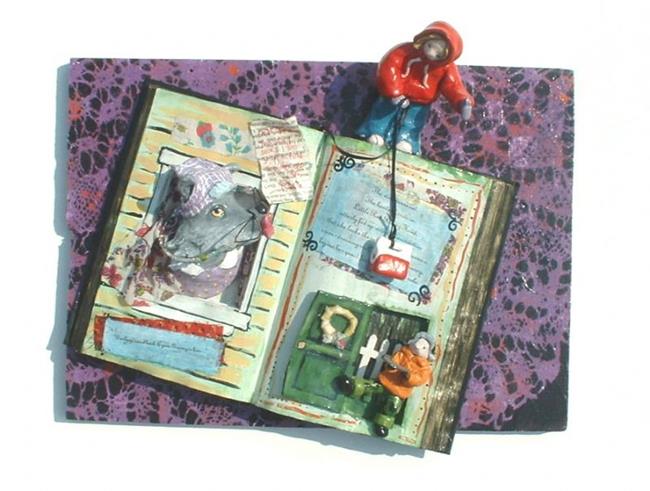 My thinking (I guess) was to get Little Red Riding Hood out of that story... she's been stuck there for far too long. The large block of text reads: "The wolf peers out. The hunter bursts in. Little Red Riding Hood, utterly fed up with the insinuation that she lacks the intelligence to discern a cross-dressing wolf from her dear granny, begins her quest for a better starring role." Above the wolf is a handwritten note from Red (dictated by my 10 year old son for realism) which says: "Dear Granny, This story sucks. I'm going to find a better one. Love, Red." And the wolf, still thinking he's pulled off granny bit, says: "Darling, come back & give Granny a kiss..."
Ingredients:
Water-damaged copy of War & Remembrance (some of the cut-out pages were left intact on one edge to create the door)
polymer clay (characters, cooler)
paint (characters, book, background, etc)
wire & beads (glasses)
fabric (curtains, wreath, backing for text)
lego shotgun
ribbon
wood (backing, pre-fab fence)
glue, polyurethane, nails, etc... Sold.