I initiated a long-term project with my art students, whereby we made homemade, DIY art journals, and worked in them throughout the year. I then embarked on a project to create a guest entry into each one of my students' journals. For this particular student, a middle school-aged girl who happens to be a hijab-wearing Muslim, I wanted to be sure to paint something for her that would be both respectful and culturally sensitive. Being as that she and her mother were both taken with a Rock Person I once painted as an entry for an
EBSQ exhibit
, the theme of which was '1001 Nights', an idea popped into my head.
I had entered a little portrait of the famous "Scheherazod", painted on a wee rock that had been sitting about my studio for years
(which went on to receive 'Patron's Mention' in the show) -- and later brought to art class to show my students. Remembering what a hit it was with this particular student and her family, I decided to create a vibrant, mixed media art journal entry for her based on my little rock portrait....
Detail Images
Scheherazade The Rock that inspired the Art Journal Piece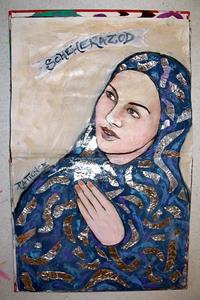 Scheherazod photographed with camera flash, demonstrating how sparkly it is
ScheherazodRockBack.JPG
By commenting, you agree to our Community Guidelines.