Original Art by Dana Marie
"
Curiouser and Curiouser
"
Media: Acrylic on Canvas
Painting: 10 inches X 10 inches X .82 inches
Sides are painted black. Wired and ready to hang!
To view more pictures of this piece, please, visit my Etsy shop:
www.danamarieart.etsy.com
Cheers,
~ Dana Marie
www.facebook.com/danamarieartstudio
Detail Images
Curiouserandcuriouser_Abstractlandscape10X10Acrylic_March26_2018.jpg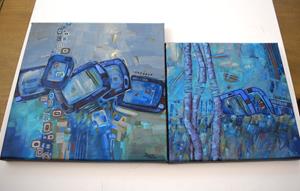 EquilibriumandCuriouserandcuriouser_Abstractlandscape10X10Acrylic_March26_2
CatalystandCuriouserandcuriouser_Abstractlandscape10X10Acrylic_March26_2018
By commenting, you agree to our Community Guidelines.